Investing at the point of maximum hate & pessimism
I have been bullish tankers since mid 2019. The road has not been a smooth one.
Due to covid19, oil going negative and then coming back up, as well as a plethora of extrapolated data indicating massive demand melt downs, oil tankers shares are in the doldrums.
I've taken the chance to expand rather massively on my initial holdings since December "highs".
Why am I so bullish on the shipping space?
The shipping industry is one investors tend to avoid. A look at the long term share price charts of most shipping companies will tell you that they've been a terrible, long term, negative compounder of shareholder capital.
Management has shown a tendency to grow their fleets at all costs just as much as E&P companies in the United States has done the same in terms of trying to become the "top 5 producers".
If that's the case, why invest?
The answer is simple.
Supply and demand are now imbalanced, all things considered. Supply is massively constrained by lack of finance. And while demand has been hampered, as the covid effect passes (targeting 2020E), we should see demand normalize (w approx 10-15% range in accuracy) . IMO2020 contributes further to supply tightening.
Shipping turns on supply/demand of ships – all else being equal.
If there is insufficient supply of ships, shipping rates rise as refineries and global energy producers get desperate to secure transport. If there is a huge supply of ships, only extraordinary demand can cause rates to rapidly inflate. The rapidly aging fleet and the tidal wave of IMO2020 were 2 key factors that drove me to invest in shipping.
For those who are confused, allow me to sum up the thesis prior to contango and covid19 in 2020. This is a very rough timeline of events.
The Initial Thesis – Aging Fleet + IMO2020 = Reduced Supply
First. the age problem: Worldwide, tanker fleets built during the last bull run (2003–07,08) were rapidly approaching an age where charterers avoided chartering them to begin with. This is most true for product tankers ($STNG) than for crude (unrefined). It's far harder to contaminate unrefined crude than it is to contaminate product (naptha, vegetable oils, etc cetera). Post 15 years of age, charteres tend to avoid booking you for shipping products (refined). That immediately poses a problem for product tanker owners. The secondary problem of an older ship is a special survey cost.
Post 15 years, a ship must undergo a special survey. In addition, it has to also undergo an intermediate survey cycle every 30 months at 17.5 years and at 22.5 years. Each survey can take weeks to finish, removing valuable time and earning days (just as a taxi in the mechanic's workshop isn't able to pick up passengers). The costs are also higher (refer diagram).
Think like a ship owner for a minute here. If you are to pay millions of dollars on an aging asset, the one thing for certain you want is to be able to make a multiple of that money back. This is simple business. You don't want to throw away nearly $10m on an asset only to have it earn you $6M back. If that was the case, you would have been better off scrapping it. Rate visibility would be key here and in the volatile earnings world of tankers, it's always better to be safe versus sorry.
Note that the charterers' preferences still apply here, so even if you did choose to perform the surveys and try your luck, you'd still need to fall in line for lousier rates because of vessel age.
Also note, you can't skip out on special surveys. Skipping means your ship doesn't receive a classification, without which you have no insurance, and therefore, no customers.
2nd, IMO2020: In addition to a rapidly aging fleet, the International Maritime Organisation had set a simple rule to be followed in 2020 by all ships – no more burning of high sulfur fuel oil (unless you install a scrubber). Acceptable levels of sulfur in fuel oils was now set at 0.5%. That created a further problem.
As a ship owner, you had one of two choices. A) Burn Low Sulfur Fuel Oil (LSFO) which was more expensive. Or (b) install "scrubbers" which costed between $2.7-$5 million depending on whether you were a newly built ship or an older one.
As above with the surveys, the problem of whether you could earn your money back on the tankers you're retrofitting remains a problem. If you couldn't afford to install scrubbers, and if you had to burn more expensive low sulfur fuel oils, then your competitive advantage goes out the window. The best result here is yet again, to scrap the ship, take the cash, and move on with your life.
The bull situation summed up therefore was:
1 – historically net negative orderbook, aging fleet
2 – IMO2020 catalyst
Covid19 & Contango
This nicely brings us into 2020 and covid19, which took off in China around Nov-December and was noticeably worldwide by March. Almost immediately, oil prices started plunging as travel restrictions/lockdown/circuit breakers were put in place.
"Contango" developed – a state whereby oil in the front months of the futures curve costed less than later months.
What this meant was that traders could short oil on the futures for the latter months and buy oil futures trading closer to the present to realize the profit.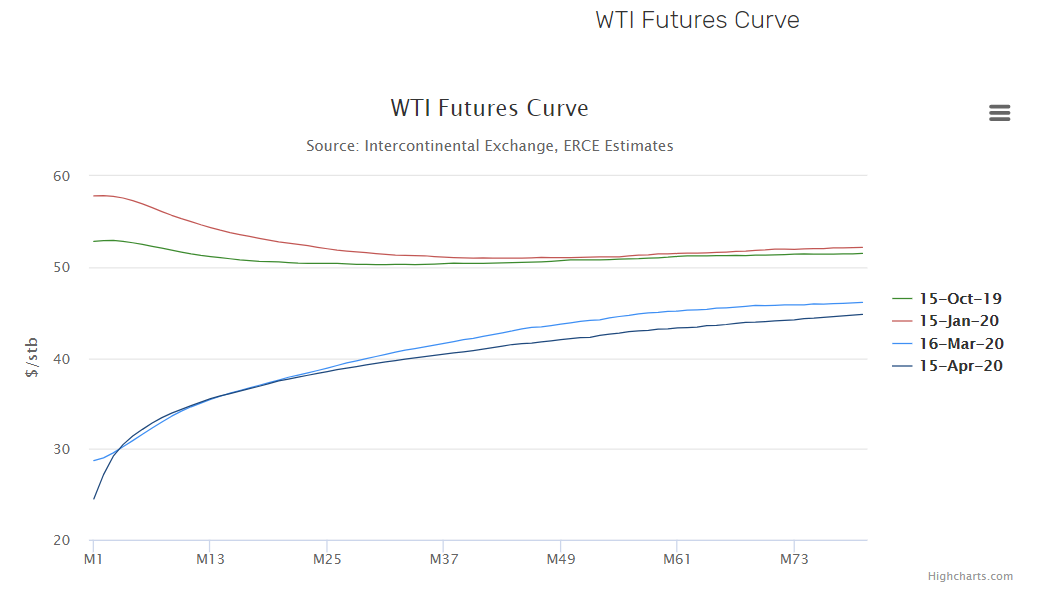 All they had to to was figure out where to store the stuff in the meantime.
Land-based storage was apparently not a viable option, because contango quickly skyrocketed dirty tanker rates then clean.
More than 100 of the current 700+ tanker fleet are now officially in storage mode. Covid19 has also congested ports with reduced manpower, delaying another 100 tankers with demurrage fees racking up between 7-20 days.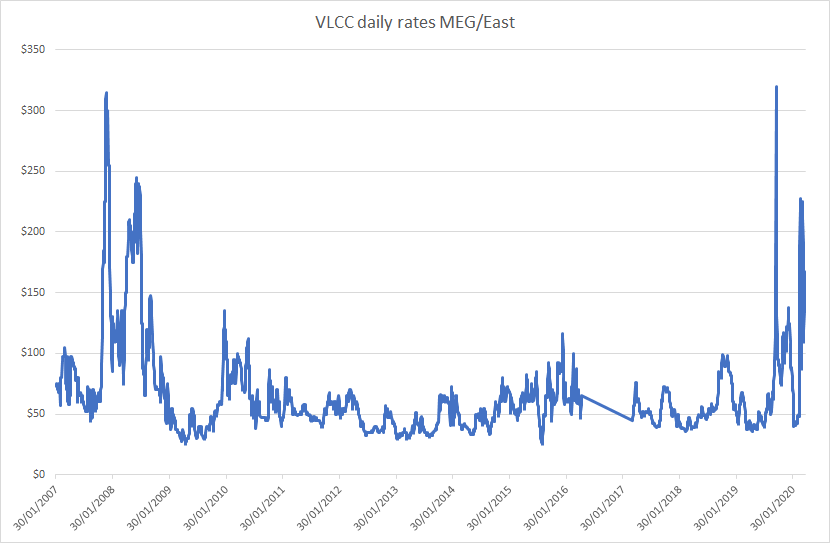 You will notice if you look on the chart, two insane spikes for VLCCs. One in OCT19′, and one in the recent months.
Both are good clues as to the tightness of the supply of tankers, as well as supportive of the thesis that tankers were rapidly entering a bull market.
What happened in October was the COSCO sanctions imposed by the US for allegedly trading oil with Iran. Charterers quickly raced to replace all Cosco/subsidiary listed ships, which numbered about 47 versus the global fleet of VLCCs which numbered approximately 735 total Affected supply of ships at maximum was therefore approx 6%.
Removing 6% of total fleet supply sent rates from $40,000-$60,000 a day into $250,000-$300,000 a day for vlccs.
Here's the juicy part.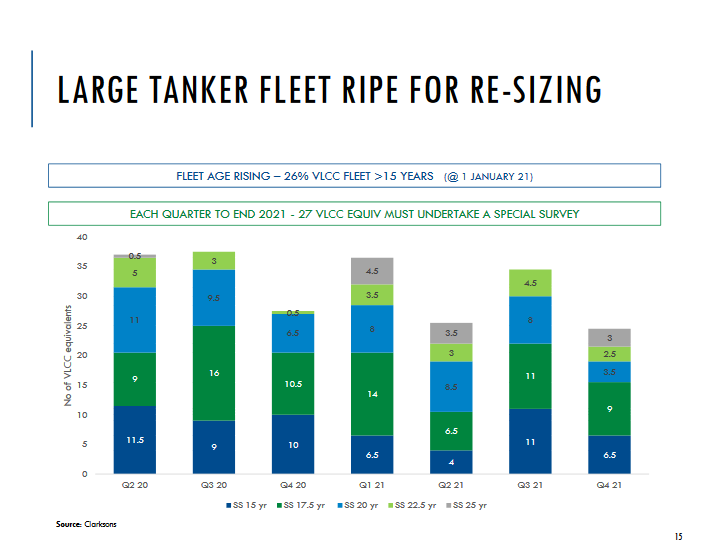 If removing 43 vlccs prompted such crazy rate spikes, what would the consistent removal of 27 vlccs do to rates over the next year till 2021?
Now combine that with a historically low order book.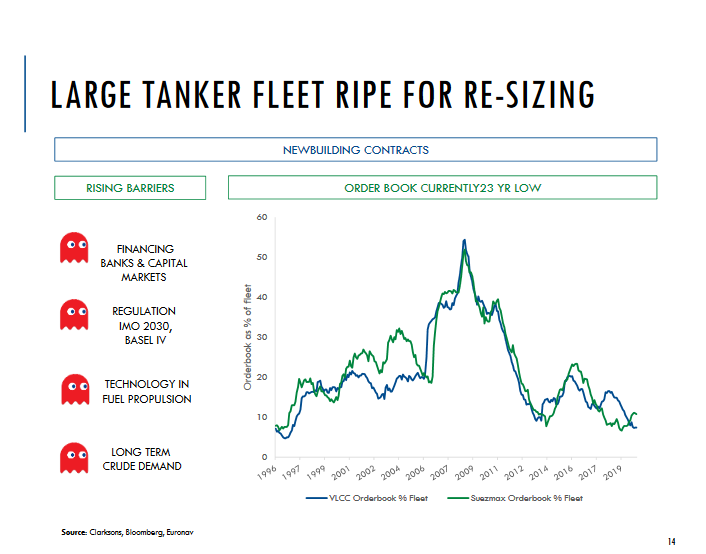 If you are possessed of common sense, no amount of fine data finagling will tell you that we are approaching a bear market for tankers.
That events such as this can rapidly effect such massive and volatile rate increases (which are still happening as of right now btw), explains the underlying under-supply and tightness of the tanker market.
Few participants seem to notice or care about this very salient supply/demand aspect. Most seem to regard it as a passing fad.
There are investors today who are asking about oil demand putting downward pressure on tanker rates.
There are investors who are short on tankers (thank you for the gift!), insisting to all who can hear them that rates are bound to hit rock bottom after 2 quarters of crazy earnings.
Some of these bears argue that a return to below operating expenditure daily rates is a "norm".
I would like to remind readers that no industry can exist infinitely in a state where operating costs are higher than profits that can be derived for a long state of time (except, it appears for shale oil, which even now appears to be hurtling towards doom). That is why most shipyards went bankrupt and why most lenders cut off financing.
Balance will always be brought, and here, we see that happening. As of 19/5/2020, post contango extinction, rates are still excellent for tankers.
If a market glut of tankers leading to low supply is the norm and can be construed as a permanent thing, bears are either not using their heads or extrapolating too far into the future.
Few seem to have figured out that shipping companies, with massive operating leverage require just 6m-1year of earnings to earn their current market capitalization.
For clarification, fleet wide break even for scorpio tankers is about $17,500.
Yes. That is nearly 10 times the break-even rate required for a ship. Also note, STNG owns approximately 42 LR2 vessels.
Let's do a simple exercise.
Using very rough math, minus breakeven cash, let's call it 20k, that's $6,336,000 for a 40 day voyage. Even if only 5 ships get similar rates, that's $31, 680,000 in profits over 40 days.
That's 5 LR2s out of 42, and we're just a little shy of $STNG's entire Q1 net income.
Refer to the screenshot.
Using very rough numbers**
VlCC breakeven levels are approx $30,000/day.
LR2 breakeven levels are approx $17,500/day.
Suezmax breakeven levels are approx $21,100/day. (2019 est).
MR breakeven levels are approx $15-$17,000/day. (yes, they're bleeding as of now.)
Tabulate it, apply a discount, be conservative and factor in the above scrapping that's due to happen as rates come down further.
They've already had a stellar q419, and my names have also reported stellar q12020 results. Hell, $TNK's Q1 free cash flow generation was approx $81m. ($141m less $60m from sales of vessels. I've reduced since it's non-recurring.). And $TNK's market cap is $566.93m.
Given that $TNK's fleet wide breakeven is also now reduced to about $10,500/day (ending 31 Mar 2021) as per earnings presentations (anything above goes to free cash flow), I find it hard to believe that the company will suffer any real existential crisis, leaving it perfectly positioned to capture significant upside as competitor vessels undergo aging and scrapping.
Just look at their debt repayment profile. Post 2020Q1 earnings, they're standing at $368 million of liquidity. That's enough cash to cover them in debt repayments till 2023 with no real operational difficulty.
Yet share prices are down, bears are dancing, and shorts are celebrating.
Shrug. I'm adding while the short pressure is piling up. I'm probably going to be adding well into q3 every month since I expect lower rates to exert greater downward pressures.
What I've described for $TNK materially applies to most tanker companies – they're mostly derisked, have no real fear of bankruptcy, and while they'll see a weak Q3 leading to increased scrapping (which we need to happen!), we'll in general see year on year improved rates and therefore year on year improved cash flows and share prices.
I'll let time sort out who's right and wrong while I move on with my life.
To sum up for new tanker investors;
pay attention to fleet age vs new fleet growth, we are at a point which have been somewhat delayed by covid19. enlarged fleet orderbook growth destroys any chances of sustained long term above average daily spot rates. I will personally go short if this happens and happily relinquish my tanker bull position.
read up on imo2020 and the effects on shipping. Kuppy over at adventuresincapitalism has an excellent blog post here.
there ARE scenarios for failure. if management teams now do ANYTHING but delever and reduce debt, sell. Leverage is well and good. But not reducing debt and buying more ships is a net negative. This is applicable to all tanker companies.
Contango and COSCO sanctions are mere distractions. There will be others that will as the bears say, "temporarily spike up rates for shipping to lull dumb money". If you pay attention to fleet demand/supply, the rest is noise. Note, this "noise" tends to push up earnings for us dramatically. The more the better. Just stay focused on s/d thesis.
There ARE factors that can impact shipping supply/demand – a great depression for instance. You can mitigate risks by buying puts on your positions in tanker stocks. Naturally, this is insurance you have to pay to play in a sector which is volatile. I know traders who're making 10-20% selling covered calls and shorting puts (to increase stakes) against their positions month on month. You know who you are. Great job, you. As for the rest, I suggest you get competent at doing the same. Options + common shares offer great rewards for holding onto positions which can be viewed as ludicrous. Also note IV now is higher than normal so options are more expensive to buy and more lucrative to sell.
Shipping is going to be a volatile sector. We will see rates spike up, down, sideways. Share prices will do the same. Hell, I saw rates go up while share prices come down. This means you need to be prepared if you want to get in on the tankers sector. If you're not, just don't get involved at all.
Keep in mind that on the demand side, I expect 2020Q3 to be horrid (I'm a born pessimist). What I'm looking for here is the scrapping activity of ships. I want the uneconomic players out of the game and I've been aching to see scrapping rates rise. But high 2019Q4 rates bailed them out then 2020Q1 contango bailed them out again. I'm not complaining since it's led to record earnings, but I hope there are no more delays. Let the sword fall. This will come with some rate pains where daily rates look to touch or even go below opex rates for all but the best players. As I've noted above, the better positioned companies will be able to sustain this without much fanfare. Share prices will probably see some weaknesses and we can probably look to add here.
Time to Buy Energy Producers – Part II
I'm currently long Antero Resources, ticker $AR and will look to add Range Resources $RRC whenever possible. Both are gas producers.
Yes. I can hear it already.
"But producers have been a shitty investment for the past decade!!"
"But management have done nothing but enrich themselves for the past decade, delivering zero results!"
Yes. I get it. Some investments over the past decade has done nothing but destroy capital. Why get on the train?
Because the inflection point is here and because maximum pain is finally forcing producers of natural gas to have some discipline.
If you haven't noticed by now, I have a tendency to invest in sectors few want to play in. Energy producers, shipping, etc cetera are all areas people want to avoid. But such is the nature of extreme pessimism.
Kuppy, a guy I respect alot says that he's made the most money when situations go from hopeless, to some sort of fucked.
I don't exactly believe in that.
I believe that the turnaround, the inflection, that swap of beliefs from bear to bull, creates the necessary momentum for incredible gains. The difference here lies in the fundamental nature of people to both extrapolate good & bad scenarios many years forward. A bad year implies forward bankruptcy, a good year implies better highs in the future – or so we'd like to think.
You can come up with whatever name you want for it. The truth of the matter is that a turnaround is not just the best sort of story plot there is.
That sort of emotional power behind when a company goes from "oh obviously its going bankrupt" to "oh, wait, huh, erm, wow, maybe not?" is kinda extraordinary – and as such, the raise in share prices from a resulting set of beliefs are also extraordinary.
It is the hail Mary. The last second touchdown. The equalizing goal. The last ball through the hoop in the face of all the impossible odds which makes turnarounds ludicrously rewarding.
But!
There are risks entailed when you decide to invest in turnarounds.
Companies that can be classified as turnarounds most notably have larger than average, even toxic debt burdens (*see tankers above), are facing broad industry/sector/company specific headwinds (retail, office reits), and most have lost nearly 90% of their share prices over the past years and typically look as if they're priced for bankruptcy.
Let's get back to Antero Resources. Why long a natural gas producer and why now?
Simply put, 67% or nearly 2/3rd of US NGL productions comes from US oil/shale plays. Take a look at active rig numbers today versus a year ago.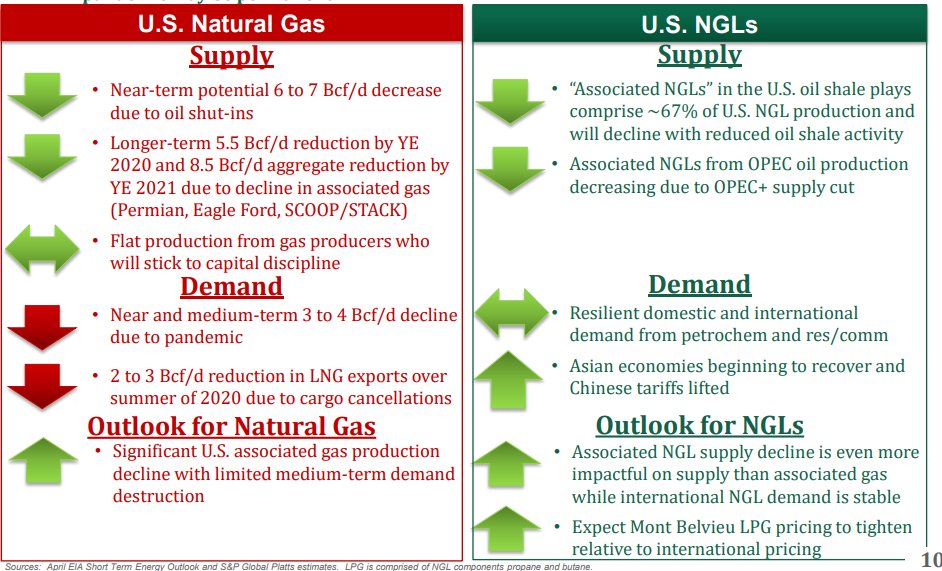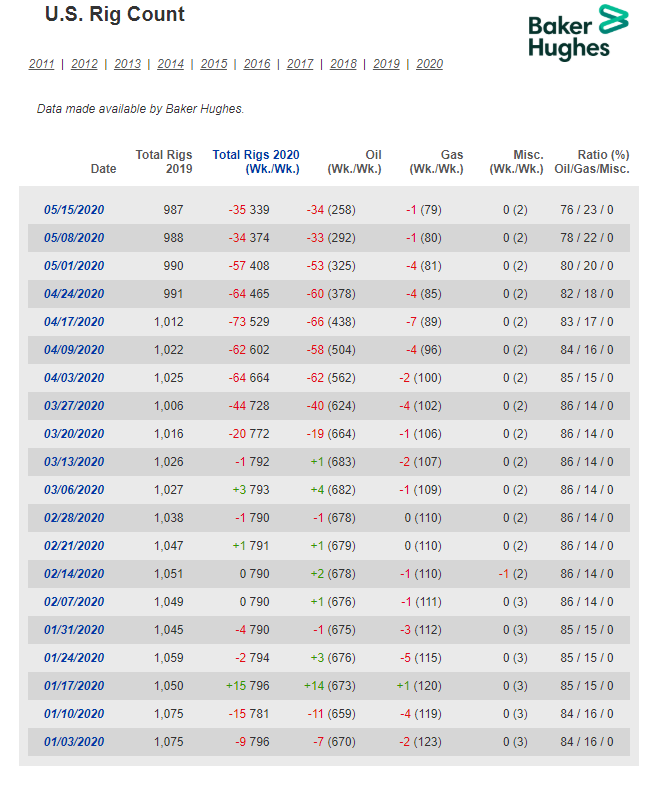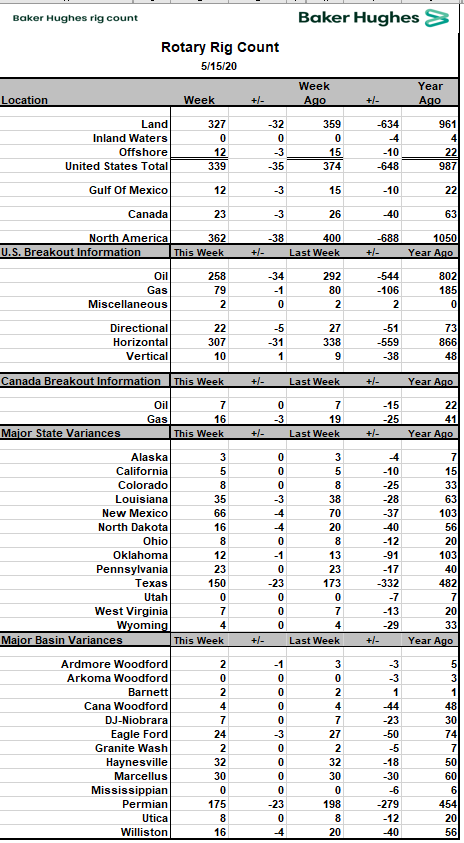 You're reading that right. Rig counts are at nearly 1/3rd of what it was a year ago. Across the board, massive cuts across most areas. If 2/3rd of ngl production is supplied by US Shale Oil, what happens when those supplies get cut off at the knees?
NGLs represents approx 30% of Antero Resources production and represented 27% of their 2019 revenue. Factor in reduced capex, maintenance mode production, flat production guidance, and you can roughly bake in where you think AR shares should trade. I'm thinking $5-6 depending on how high up NGL prices climb (since gas production is mostly hedged). $RRC is unhedged, so if anything, they should see big tie share price climbs in the event natgas climbs up sharply.
When will natural gas liquids/natural gas prices climb? I can't say for sure. My suspicions are Q2/Q3 into 2021Q1-2.
I've leveraged the (paid) work of various other energy analysts. I will also add I am no energy expert – so take what I say with a grain of salt. Do your own work.
Disclaimer: I am long EURN, TNK, STNG, AR, RRC.