The past few weeks have been volatile and rather stimulating in tanker land.
For the uninitiatied, the tanker sector which trades on a correlated level to current time charter rates and expected forward time charter rates plus/minus a mix of oil demand flow.
As a result, bears have been largely rewarded for following a trade that has worked for the past ten years -> short tankers when oil demand is punished and short it harder when rates are low.
This hasn't been helped by the fact that early investors who bought into the shipping mania seem to have nerves of glass with no holding power whatsoever. I imagine the volatility of the sector have given quite a few people whiplash.
There are several underlying themes I want to highlight today in the shipping sector few people have gotten their heads wrapped around.
1 – fixed long term charters have reduced breakeven cash levels for any company that got them early on. $DHT Holdings most of all.
2 – the above effect is reproduced in the sense that early, large profits raked in allows most tanker companies to have a high, yearly average rate which is profitable by far.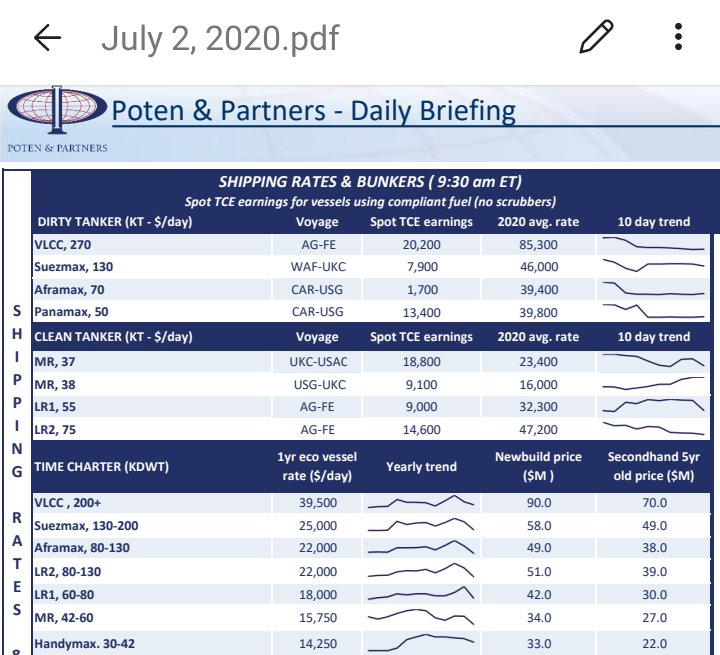 Just look at the 2020 average rate and figure things out for yourself. I've already posted the prior cash breakeven estimates. If I'm right, we're in for a hell of a bonanza year, short term share price movement or not.
My belief is as such; Not one analyst has been able to predict the average yearly highs or lows correctly.
Zero analysts have baked in the expected rates of time charters by pulling out a deep dive, evidence based look at the following contributing factors which include but are not limited to; manpower, geopolitics, oil policy changes, scrapping, storage demand flows.
Each of the factors I've highlighted above carry their own range of possible intrinsic outcomes, all of which are net positive for tankers in the long term if they do happen.
I hate referring to Buffett (now that I no longer have a marketing reason to do so), but he was right when he said this; "Forecasts tell you very little about the future and a lot about the forecaster".
IMO, anyone trying to forecast rates need to have baked in a huge armada of information all of which branch off into various tangibles. I like to make analysis based on information now, and I like to make guesses based on what a very negative future looks like.
I think any god damned analyst worth his salt would put in the actual work to verify what happens in worst case scenarios and bake that into a trade plan to win.
Which brings me nicely to DHT Holdings.
Why Am I Adding to DHT Holdings in Size?
There are only two prevailing reasons why I'm adding DHT Holdings.
1 – The company owns a fleet of 27 Very Large Crude Carriers. (VLCCs)
2 – The company managed to lock in ten long term time charters. Leaving 17 of its remaining VLCCs on spot (no contract, demand/supply driven.)
3 – The ten time charters has as a result of its profitability and duration, reduced breakeven cash rates for the 17 spot ships as a whole to $2,800 per day for the remainder of 2020, and $11,400 per day for 2021. *Cash costs refers to OPEX, G&A, interest, debt amortization and maintenance capex.
By charter, I mean something like chartering a taxi. The taxi and the company has earnings visibility based on a contract. By spot, I mean something like a taxi/cab on the road. You pick up passengers and cargo whenever opportunities appear. There are more complications, but that's about all you need to understand as a laymen.
This is DHT Holdings' charter fixes, announced as of June 25th.
Further, for 2021, it's spot ships are profitable at rates above $11,400 per day. That is yet another significantly low floor.
For current tanker rates: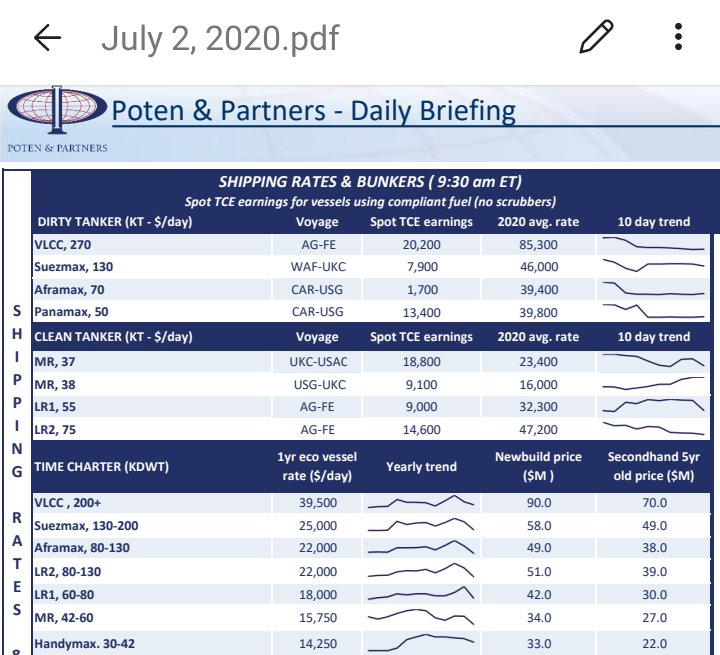 Even now, at the so called apparent bottom, vlcc rates of $21,000 per day imply $46,140,000 of free cash flows for $DHT Holdings ($18.2k x 17 shipsx 150 assumed remaining days). And we're not even talking about the expected Q4 upwards bump in vlcc charter rates.
If I adjust for q4 to have an average of $30k average, we're looking at $41m in free cash flows in q4 alone (not accounting for dividends, remember 60% of net income is distributed as dividends for shareholders). That's a decent albeit not crazy number.
The real kicker here is 2021.
With breakeven levels of $11,400 the year throughout, let's take a look at what various 2021 average rates would yield in terms of cashflow.

Some information to go alone w the above currently; DHT currently has an enterprise value of $1.49b. 2020 average rates stands as of now at $85,300/day for a VLCC.
We know from my prior post that VLCCs in general are headed for a bullish environment, with tonnage being tight and 27 VLCCs every year from the global fleet due for special surveys. If rates persist at $20,000 or lower, most of these older vessels will probably head to scrapping shipyards, effectively removing them from available storage. We also know, for reference, that the COSCO sanctions in Oct19 spiked vessel rates severely, reflecting the underlying tightness of the market. For reference again, there are about 700+ VLCCs, and about 100+ are due for special surveys through 2021.
What will rates look like?
Who cares?
As long as it's above $2,800 for 2H2020 and above $11,400 for 2021, DHT Holdings has nothing but upside.
Best guess is its somewhere between $40k-$50k unless big time sanctions come around again.
If you're looking for some dividends (DHT pays out 60% of its net income as dividends), and if you're looking to size it up right, I think there's not much of a safer play than $DHT. I'm mega bullish on it considering they have some of the lowest breakeven rates in the sector right now.
As for the rest of the shipping companies I own, I'm contented w the fact that they're cash flow positive based on their yearly average. There's really….not that much to talk about beyond that.
Disclosure: I am long shares with leverage. I own options covering my positions to cap maximum losses. I might sell covered calls against my position to generate free yield. DYODD.